BIOGRAPHY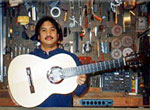 A San Francisco native, Allan Fontanilla is a self-taught luthier who currently builds classical guitars. He built his first instrument in his spare time in 1987 while earning his B.A. in music at the San Francisco Conservatory of Music.
With the majority of his time now devoted to lutherie along with repairing as a side, his custom built classical guitars range from conservative and traditional to nontraditional with modern features and modern building techniques. He believes that as long as the luthier makes and does everything, that only then can one can consider a guitar truly handmade. Everything must be done himself- from rosettes and bridges to neck shaping and finish work.
Past exhibitions of his guitars include several Healdsburg Guitar Festivals, the Guitar Foundation of America (GFA) in La Jolla, California, Charleston SC, and Montreal Quebec Canada. Allan's guitars have been featured in Acoustic Guitar Magazine and Fingerstyle Guitar Magazine. He has also been featured on several San Francisco television cable programs.